So, She's been in the water a month now, tied up out at Shillshole. In that month, I've been getting to know her. She's been all the way to Port Townsend for the PT wooden boat festival, and thru the locks for the last Duck dodge, and again thru the locks for the festival at the center for wooden boats, and a few random days and evenings sailing it outside the shillshole breakwater.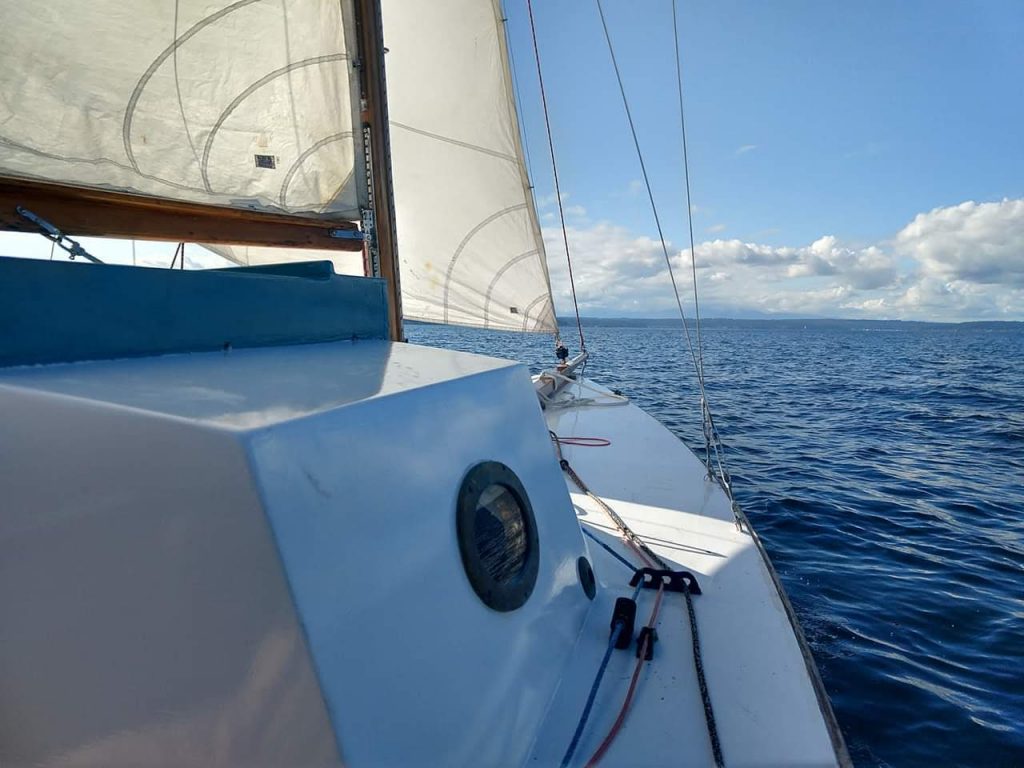 I've been delighted on how well-behaved this boat is. In nearly any wind, the boat is predictable and easy to handle. Stronger winds make me wish for some reef points, but even overpowered it isn't very tender. I've also found the boat to be more manageable with two, yet large enough to not be crowded when sailing doublehanded.
While the boat is sailable; it is far from done. Here's my short list for R2AK:
buy sculling oar
buy and install lithium battery
buy and install navigation system
fabricate windvane
buy and install instruments
get new sails made (main, jib, and spinnaker)
buy and setup spinnker furler
buy and install bilge pumps
replace halyards with more appropriate ones
replace halyard cleats on mast with a better setup
convert mainsheet to split tail configuration
Add name and hailing port to the sides
Buy watertight hatch for forward internal bulkhead
This isn't a small list.
Unfortunately, I've also had a very slow year, work wise. A combination of a fluke in WA state's ferry maintenance schedule and the current two month shutdown of the locks have made the middle and end of this year alot tighter financially than I had planned. As a result, I may not be able to R2AK in 2020. It pains me to say this, but unless I have a really great winter in the shipyards I won't be making the trip north. In the short term, this means I'll probably try and do more sailing on other people's boats over the winter to build experience, and look towards doing other events in the Lady Jane next spring and summer. If you know any race boats looking for crew, let me know. I'm not saying 2020 R2AK is out of the picture, just that it is looking unlikely.
Also, as this boat sails well and accommodates a crew of two so well, I've decided to open it up and look for crew. If you'd like to sail on the Lady Jane, let me know. Weather it is for a full R2AK, or just an afternoon at Shillshole, I'd love the company.