The Crew
Robert Hodge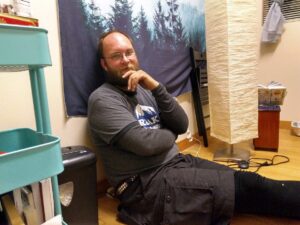 Rob is originally from just outside Chicago and learned to sail on a sunfish in a northern Wisconsin lake, from a book he found in a thrift store.
He is also a member of the Corinthian Yacht Club of Seattle, and the Sloop Tavern Yacht club and lives aboard the R2AK veteran "Monsoon' at  Shillshole Bay Marina.
He can be best reached at Hodgespeed@gmail.com
David White
Dave joined Rob and George early in 2021, after stumbling upon a Facebook in-search-of-crew post. For him, the PNW extends all the way to Yakutat, AK and he considers it one of the most amazing coastlines on our planet. He first discovered the coast as a crew on a salmon seiner, and fell in love with it. Since the mid-nineties he has racked up 800+ miles of kayaking various stretches of the coast with friends and family, and sometimes solo.
He also has owned a Catalina 22 for over 20 years, which he's been using as a self-teaching platform when he gets the time.
"Speed sailing is fun, but in the long run I'm into sailing for the adventure, and where it can take me. There's nothing quite like time on the water, whether under way or sitting quietly at a remote anchorage and taking it all in."

-Dave
Some sailors that have inspired him throughout his life, in his words:
Ryan Miller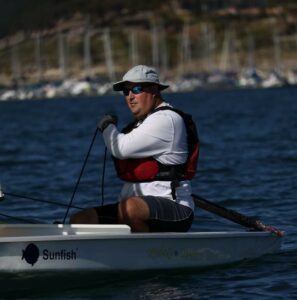 The son and grandson of sailors, Ryan finally came to the sport at age of 25. He first learned to sail in 2014 at the invitation of a work mentor, Anita Gale, who owned a pair of J/24s. He has spent the last 8 years, including the past 4 as skipper, sailing Anita's boat Trick Bag on the famous J/24 Texas Circuit and at major championships across the country. Recently, Ryan purchased a 2004 Sunfish called Daisy and has begun to race it competitively across Texas. He also races offshore every chance he can get. Off the water, Ryan is an aerospace systems engineer and serves as the fleet captain for both the Houston J/24 and Sunfish fleets. He is married, and he and his wife have two cats and a dog.
He's just happy to have his bio listed above George, who has more sea miles than Ryan ever will!
George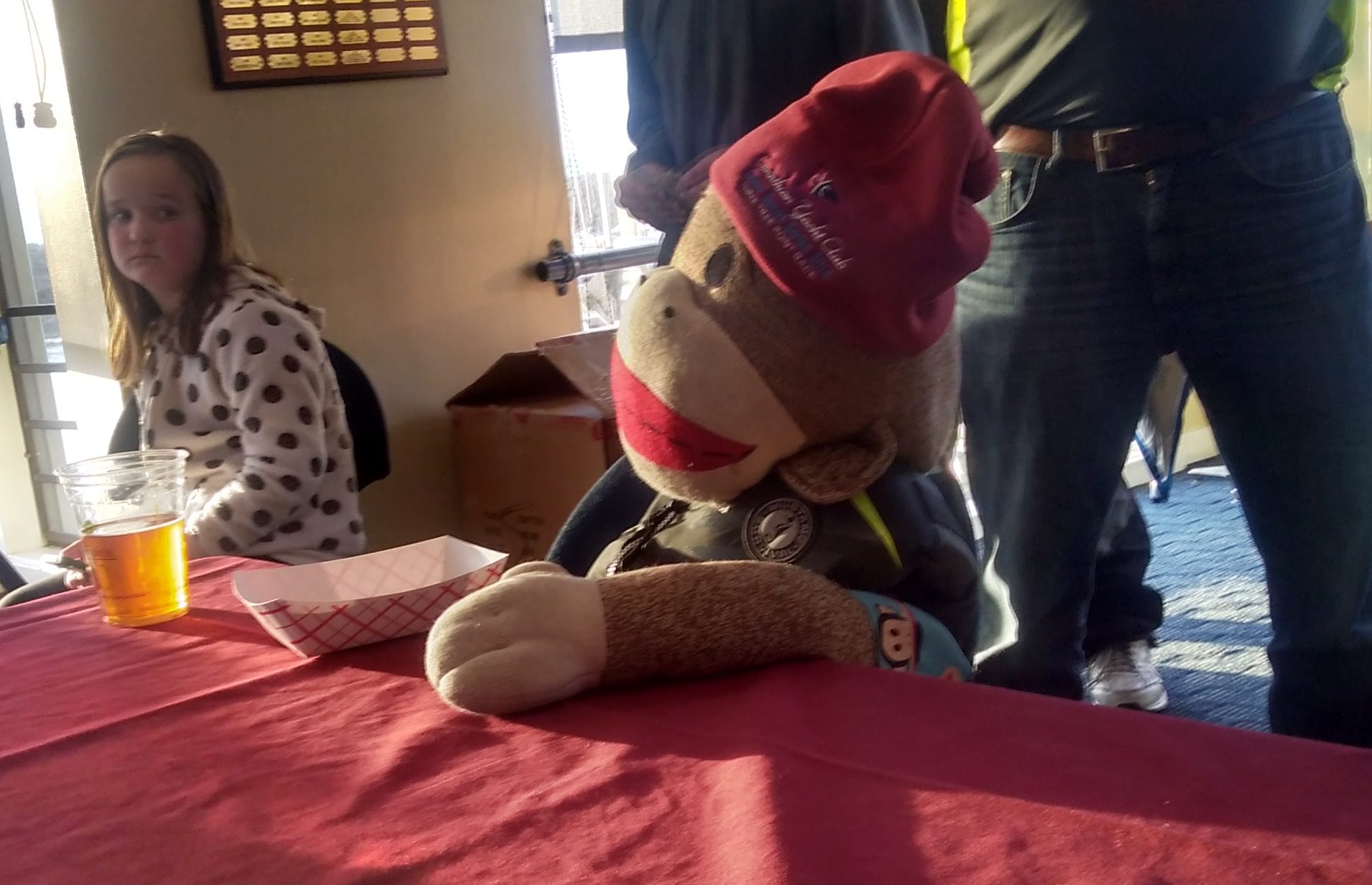 George is a 4-foot tall sock monkey, most commonly seen wearing Paul Frank pajamas. He's  been sailing with me since about 2014. Long ago he got the salt in his yarns, and as a result he longs for the sea.
His greatest wish isn't that someday he could be turned into a real boy; It's that he had been made out of merino wool instead of cotton.
He's a veteran of both the 2016 and 2017 R2AK first legs, though he doesn't talk about them much.
George has his own instagram at @sail_monkey_george
The Boats
Wildfire
Wildfire, Olson 30 hull #171, needs very little introduction. The boat is a two-time US National champion under Keith Lorence in 1993 and 1995. Wildfire has spent the last few years racing in Portland, OR and was recently brought back home to Seattle. The team will spend the next couple of months refining Wildfire's performance before R2AK 2023.
The Lady Jane
The Lady Jane is a Lightning one-design Sailboat, hull number 6724. As near as I can figure, it was homebuilt in a garage on Beacon Hill, Seattle around 1959 or so. Before I got this boat it had been stored in a barn for 20 years.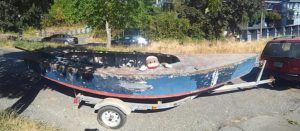 The lightning is one of the most storied of one-design fleets; it was Designed in 1938 by Sparkman & Stephens, there have been over 15,000 of them built. They are still actively raced, especially in the midwest and on the east coast having successfully transitioned to fiberglass hulls and aluminum spars over the years.
They are rigged as a fractional sloop, and carry about 180 sq ft of sail upwind. With a substantial steel swing keel, class minimum hull weight of 700 lbs, and designed for a crew of three this isn't your typical lightweight dinghy.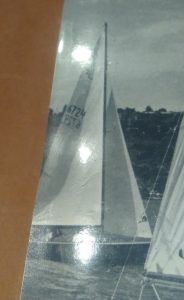 Hull 6724 was originally raced on Lake Washington in fleet 132, but despite researching old records and scrapbooks at CYC, I cannot find any record that the boat placed in any race. I did manage to find a picture of the boat in the background of a picture of  a CYC sanctioned race on Lake Washington that happened in 1965, but no other mention of the boat or any of the previous owners. The original class measurement certificate lists the boat having no name, but at some point in the early 1960's the boat was named 'Fascination'. I'm not sure when the boat picked up the name 'Lady Jane', but that is what was on the side when she came to me.
The previous owner had intended it to be a project for him and his new son in law, but a grandkid got in the way. He merely wanted the boat to go to somone who would fix it up and use it, so I got the boat for free.
When I got the Lady Jane, she was rough. there were 3-4 broken ribs from being improperly loaded on the trailer, a dry rotted pile of splinters that used to be a mast, and a ton of paint to be scraped and removed.
After a 3-year refit, the boat has been brought back to the water and has been active in some local PHRF races, as she holds a rating certificate with a handicap of 168.  The boat was sailed to a successful finish in the inaugural WA360 in 2021, and we plan to enter her in the 2023 R2AK.
The Minnow
The Minnow is the boat Rob had before he had the Lady Jane; The Minnow was sold in the fall of 2016.
The design is a collaboration between Perttu Korhonen in Finland and Michael Storer in Australia.
The evolution of the design started with the Bolger Brick, which was modified to become the home-built one-design Puddle Duck Racer. Then, Michael Storer came up with a slight variant on that design called the Ozracer. Perttu Korhonen came up with an idea to fit a small cabin to the 8′ Ozracer that used Michael's sail and spar design and gave the tiny cabin boat design the tounge-in-cheek name of 'Ocean Explorer'. Meanwhile, Michael Storer came up with a 12 foot stretched Ozracer that used the same sails, spars, and foils as the Ozracer and called it the OZ PDgoose. There were requests to put the Ocean Explorer cabin on the 12 foot OZ PDgoose hull, so they colaborated on this design, with Perttu Korhonen primarily designing the hull and Michael Storer giving primary input on the new spars, sailplan, and foils.
The design has some definite compromises and interesting trade offs, it's alot of boat in 7 sheets of plywood.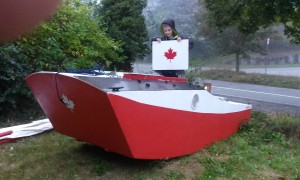 This hull was built in about two weeks by Rick Landreville, in British Columbia. Rob came to own it by contacting Rick while he was planning his own build to ask him about the feasibility of a modification. Apparently, Rick's wife has a 7-boat-limit, and he steered the conversation to how he'd cut Rob a sweet deal on his. a few months later, Rob's son woke up to a boat in our front yard.
The Minnow originally launched as the prototype build of her design under the name 'Oozegooze 1'.  Before she had even hit the water, she was lent by Rick Landreville to Andrew Linn in Oregon, who finished the spars and sails so he could enter it in the 2012 Texas 200, a rolling messabout thru the Texas intracoastal waterway. He's the one responsible for the maple leaf on the sail, a tribute to her Canadian builder and heritage.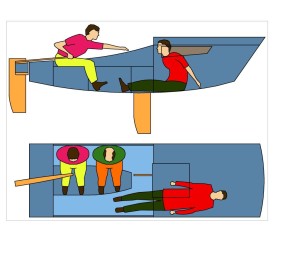 Traveling in the back of a pickup truck she hit a few small boat events on the way back before finding her way back to Canada. Rick used the boat occasionally, but he's an avid builder and so it got less and less use before coming to me as other boats and other builds drew his attention.
When Rob received the boat in the early fall of 2014, the cabin roof needed replacement, having delaminated and being partially replaced with lexan that had then cracked in a capsize. her rudder box needed replacement. The cockpit floor was pulling apart from the bulkheads.  In short, she had alot of miles under her hull both on the water and on the road and a lot of wear and tear. Rob did a quick fix on the cabin roof, and fitted the foils from my Ozracer and started sailing her on puget sound.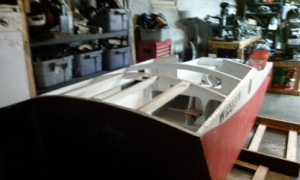 In the winter of 2014/2015, Rob did an extensive refit. the cabin roof was replaced in its entirety. The blocks and rigging were repalced with quality sailboat hardware to replace the climbing ropes and lower quality items that came with the boat. The cabin floor got a skin of epoxy and fiberglass, as did the entire bottom of the boat. Access hatches were added to make the storage more useable. Cupholders were fitted. portholes were replaced with much better items. All the sail lashings were re-done. Lazyjacks were fitted. To top it off, the whole hull was repainted, inside and out.
The minnow was sold in the fall of 2016. It was last seen in a craigslist ad somewhere near Phoenix, Arizona.