You know how your Facebook and the photo app on your phone pop up flashbacks? An out of context picture with a caption along the lines of 'Here's what you were doing XX years ago!'?
This week, I pulled out my phone and noticed the photo app lined up four boxes:  Three years ago, Two years ago, One year ago, Recently. Three years ago this week, I picked up the Lady Jane
For three years ago, it showed this picture.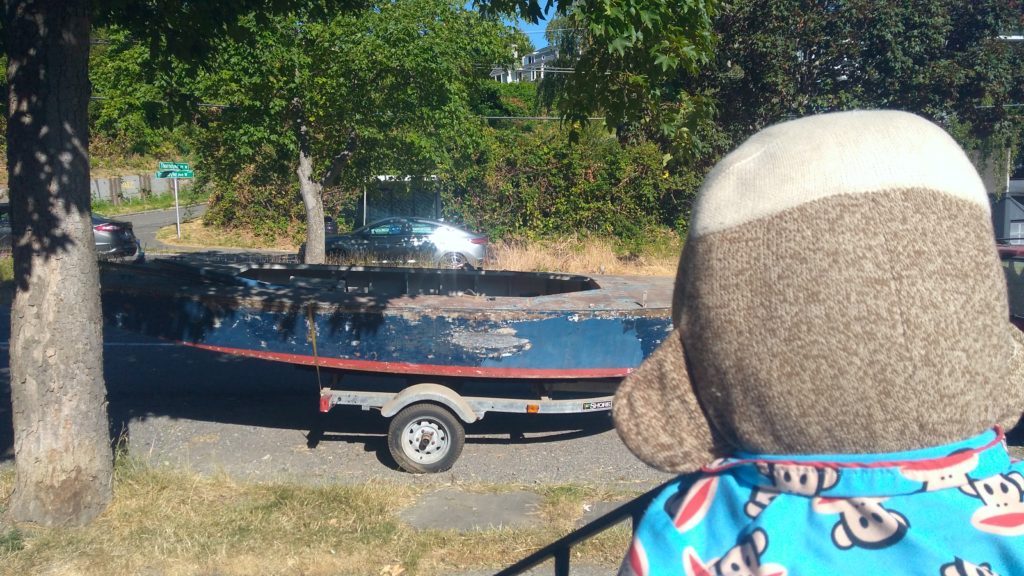 This is the first picture I took of the Lady Jane, when George first began to inspect the hulk that I'd agreed to take on.  It was a mess, a creaky neglected hull with many more issues than my optimistic eyes had originally spotted. The mast was a pile of sawdust loosely held together with the remains of the 60 year old standing rigging. All the trim, floorboards and benches were in a pile in the cockpit. Peeling paint everywhere. Multiple broken ribs. Garboard seams 1/4 wide, once I removed the bathroom silicone applied by a previous owner to stop the leaks.  Laughably, at the time I thought I'd have it on the water between 6 months to a year.
The Lady Jane arrived a month and a half after the washing machine and failure that was the 2017 R2AK first leg. The short version of that story? Boy and monkey sail boat, slightly under prepared and complacent from the previous year. Boy and monkey foolishly sail into storm. Boy and monkey flip boat. Boy and monkey self rescue and get towed to Roche Harbor. Not our best moment.
The boat came to me from a Facebook group; it had been shopped around to numerous local wooden boat organizations and nobody wanted it. A volunteer from one of those groups reached out to say it was available, and i was the only one to reach back with interest. The Minnow was quickly sold to make room, and Lady Jane made her way to me from a barn in Silverdale. She came for free, and the previous owner wanted it out of his barn so badly he bought a brand new tire so the trailer would be able to make it off his property.  Since then, I've spent several thousands on her, not tracking the costs too carefully for fear that they might really be as high as I suspect they have been.
Two years ago, it shows this picture.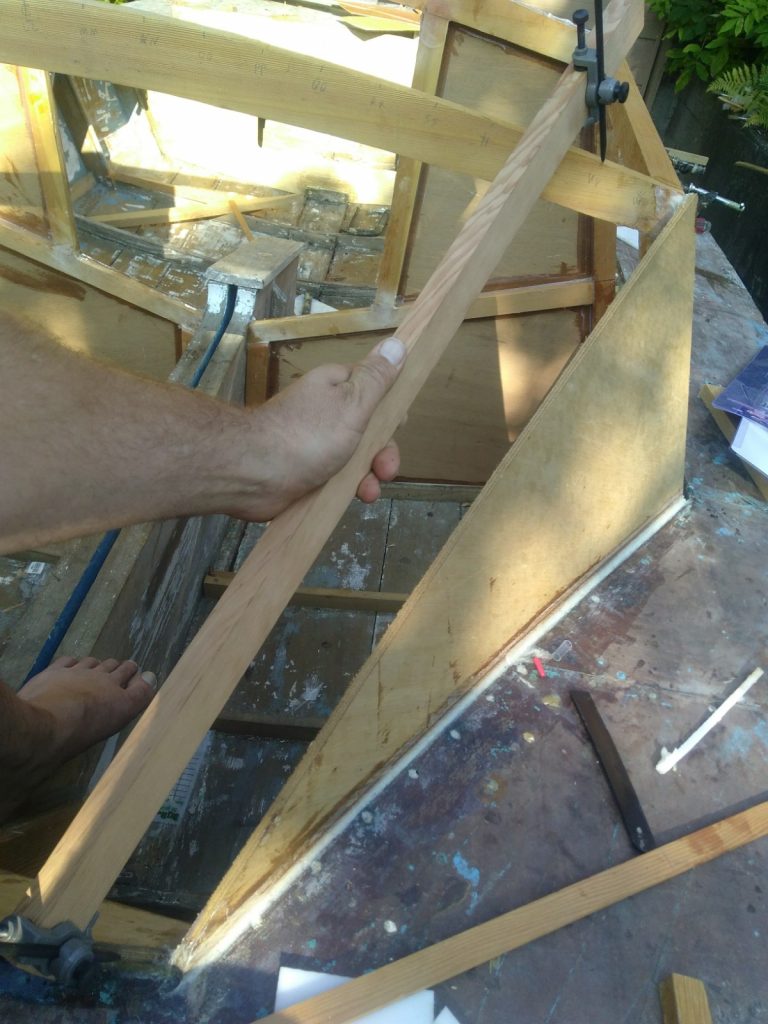 I was triangulating the curved conic section for the front of the cabin to finish up the structural repairs and modifications. I still had to do alot, including refastening the bottom screws, fixing the stem, and doing the hatch, drop boards, and floorboards. Work had progressed slowly at first, but after some nudging from Lee Bjorklund in the form of some old pictures he'd found of cabin conversions on Lightnings, I developed a vision for the boat and work accelerated.
One year ago, it showed this picture.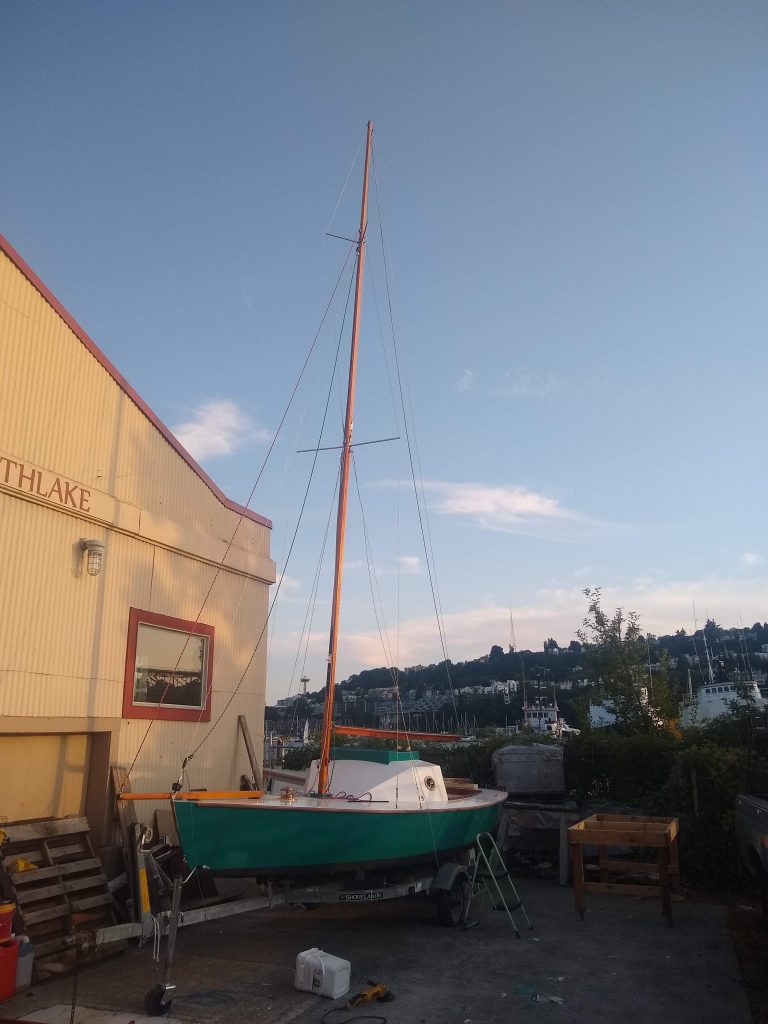 What a difference a year makes. This was a few weeks before she went in the water, and about two months before the wooden boat festival in Port Townsend. In that year I had moved from land to a Liveaboard, and to finish the boat I had rented space from the Center for Wooden Boats, at their Northlake workshop. The rudder, boom, and mast had come from craigslist for $500, saving me a ton of work and expense. Pete at Fisheries Supply had made all new standing rigging.  At this point, the boat was pretty much sailable, though many of the lines were old and awkwardly routed. The 60 year old sails weren't great. So much had gone into the boat at this point, but so many little bits still needed to be sorted.
And the last photo it showed was this, taken yesterday: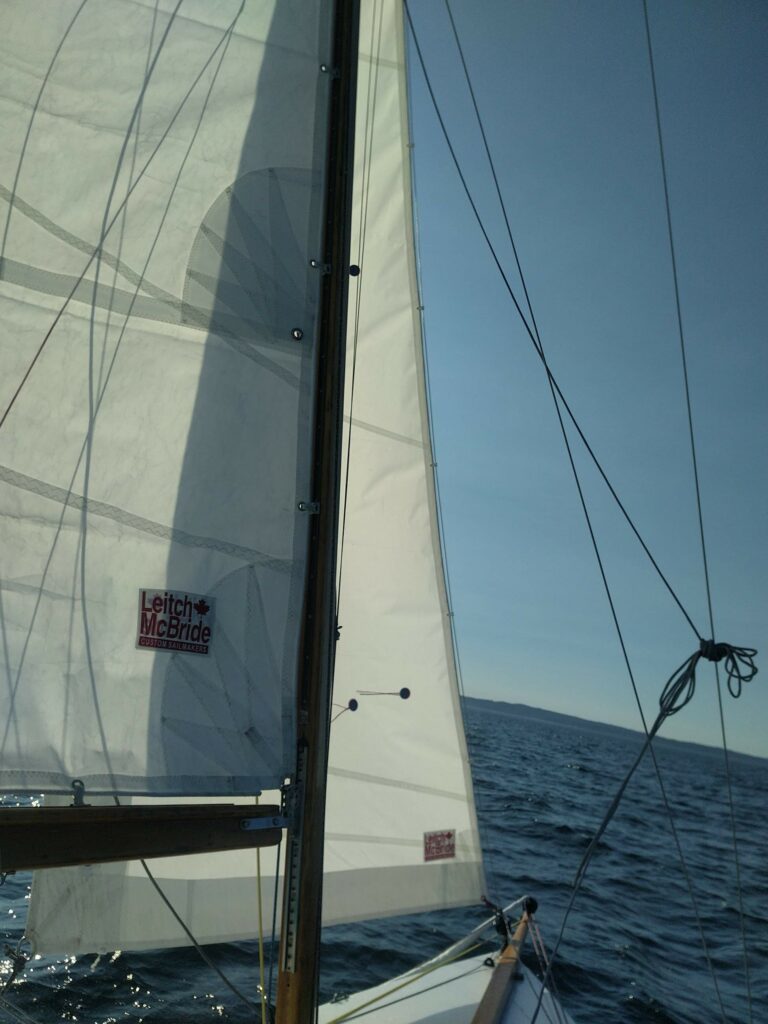 New sails, that fit perfectly. new high-tech halyards. Furled code zero spinnaker laying on the deck. Slack lazy jacks ready to catch the sails. Tell-tails streaming aft. Powering to windward, in 12 knots, full sails and sailing flat. So much progress. So much work. Three years of my life. My son was 11 when I got this boat, and now he's in high school. George has had many repairs and is a much more weather-beaten monkey these days.
The boat isn't totally done; the trapezes aren't totally rigged, and there are a few other very minor rigging issues to resolve. The boat still needs an electrical system and I want to get an Asymmetric spinnaker for downwind to compliment the code zero I have for reaching, but overall it is very close to done. I also still need to implement reefing on the main.  Lately I've shifted more from boat projects to outfitting and selecting gear to equip the boat. I've picked up some nifty water tanks and a camp stove;  sleeping bags are on the way.
These days I am sailing the boat between 1-3 days a week, and she lies on her own moorage at Shillshole. She is currently being evaluated for a PHRF handicapping certificate and i plan to race her to Port Ludlow and back next month.  I'm thoroughly enjoying the boat.
But man, Three years. It's been a long time coming. but it's proving worth it.