I spent a good chunk of last week among kindred spirits, spending significant time volunteering to help make the first SEVENTY48 a resounding success.
The SEVENTY48 is the offshoot of the R2AK; a human-power-only grind of a race from Tacoma to Port Townsend. It was a remarkable experience, and i spent something like 30 hours straight volunteering at the finish line, talking to people about the course and wind and currents, as well as being among the first to congratulate the finishers. I was almost afraid to show my face in Port Townsend after the last R2AK, but was welcomed with open arms by people who wanted to hear bits of the story who even went as far as to call me up in front of the crowd to give me a drybag and thank me for coming out. I love the community around small boats, the race and Port Townsend; if the job market was better up there for steel ship repair me and my wife would contemplate moving.
I also found out via Email that I have been approved as a presenter for the Wooden Boat Festival. I'll be giving a talk entitled "Failing at R2AK's first stage; My story". Ellen has agreed to do some illustrations for the presentation, and it'll be a all-laid bare tale of what when wrong, what went right, and how that ordeal all happened.  it'll be on Sunday in the afternoon. Dunno what the turn out will be, but it's still humbling to have the interest.
Beyond that, I had a lot of fun at the R2AK Ruckus. Not being in the race, I was a lot more care free than I had been in previous years, and met many old and new friends. Lots of questions if I was going to be headed north this year, lots of encouragement to try for next year, but we'll see.
George had fun as well, going as far as signing up for one of the free R2AK tattoos on offer.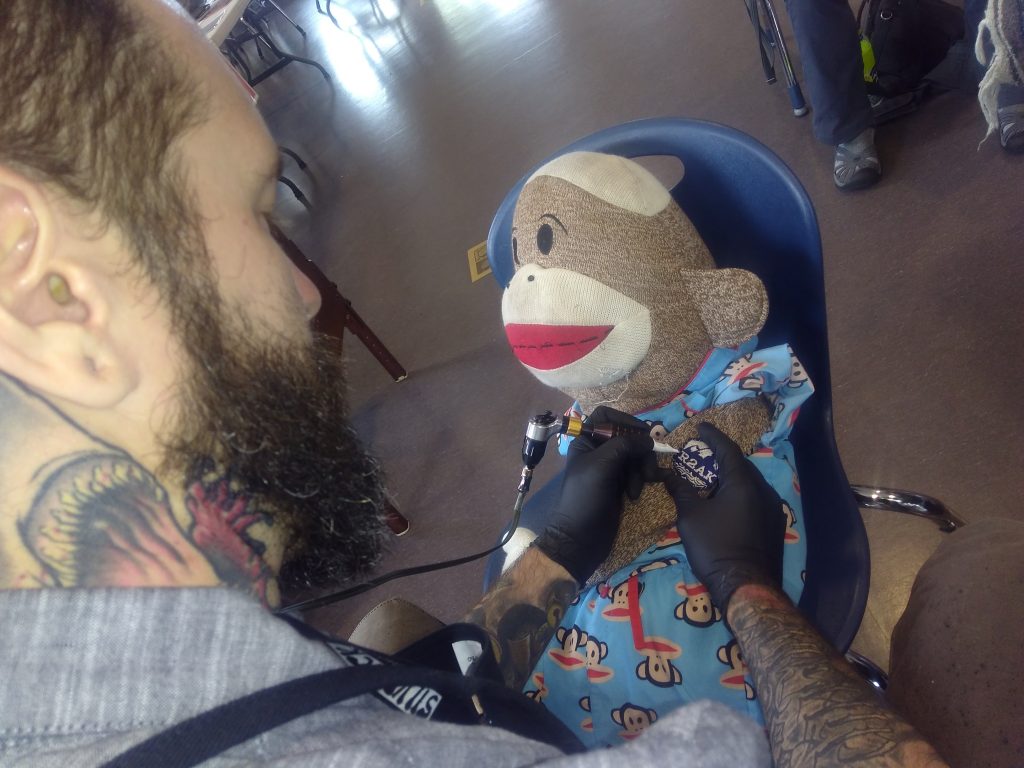 It was a fun party that capped off a great experience working the finish line lounge for SEVENTY48's newly minted everyday heroes.
Beyond that, i've had to look long and hard at the Lady jJane and the rest of the summer. It's getting to be crunch time here, and some decisions have to be made.
We're 64 days away from the barefoot raid and right now I do not see away to totally finish the Lady Jane in time, nor pay for all the components needed to take this boat to the level I want it to be at. Shipyard work is seasonal, and i'm finding myself laid off from work half of the time this summer.
Fortunately, when I set out to outfit this boat for vast adventure, I didn't start with half-vast plans, and since the barefoot raid is a supported even the boat doesn't need to be finished to R2AK-level self sufficiency.
So, the new plan is to get it sailable, and push some of the advanced features on the to-do list over the horizon, possibly to winter when shipyard work picks up and money is a bit less tight.
The first thing that comes to mind I can scale back is the standing rigging upgrade / replacement. I was going to re-do it and fit the boat with roller furling, however this is a task that can be easily done later as the rigging i have is not in that bad a shape. some extensions/adjustments may need to be made such as adding a toggle or two to lengthen it a few inches to make up fro the mast step changes, but nothing insurmountable. The set of sails that came with the mast are in fair shape, and the main even already had reef points, so that would serve for the barefoot raid. I haven't even looked at the other main nor jib I have, and I think I might even have an extra jib or main in addition to that. I can sort thru the invintory and use the best of the sails I have.
This will shave about a thousand dollars off of the budget in rigging upgrades,and enable me to use the sails I have without having to modify the jibs nor have new sails made.  Using the sails I have takes another 500-1500 off the sail budget.
The next thing that will have to be postponed is the electrical system.
I had planned to do a full waterproof electrical system  as I had done in the Minnow and using this to power twin 2000 gph crash pumps in the cabin with the possibility of a cockpit pump and with a lithium-ion battery pack backing it up, but this will have to wait. I've been studying the stability study of wooden lightnings available on the class association website, and believe with the watertight bulkheads and cabin modifications the boat will be self-righting to well over 145 degrees and the cabin's volume of flotation up high will prevent the stability curve from going negative right before the mast hits the water, making the boat want to right rather than float on its side. I'll have to make do with bailing buckets and a manual pump and battery navigation lights for now. This will save me significant time and between $1000-1500 in costs. It will also keep me from looking at electronics and instruments I had been considering, such as chart plotters and wind instruments and the like.
Other flashy bits will also hit the back burner such as the cabin ventilation I had been eyeing.
If I do an R2AK attempt in 2019 all of these concessions to time and finances will need to be addressed, re-evaluated, and implemented but for the barefoot raid I can go simple. Perhaps a sponsor might be found at that point to help.
But for now I've trimmed my to-do list, and the big items on my punch list are:
Install mast step
Install trunk and step to deck tie-in structure
Install watertight bulkheads fore and aft
Finish cabin structure
Remove boat from trailer and flip on side and do bottom
Paint topsides and interior
Install stem head fitting and bow eye
Sigh. It's still alot of work.