Whew! Well plan is I set sail in the next two hours.
I decided , at the last minute, to make drastic changes. i have never been 100% happy with my mainsail; it's so heavy a material that it really only develops shape and works well in 15-20+ winds. After sailing in the Sloop Tavern friday night race, i decided to do something about it.
I had a Lug rig on the shelf in my basement,one i had sewn up for a Ozracer, the 8 foot box boat the minnow is derived from. I had made it slightly smaller than the Ozracer plans called for due to a mistake in measurement, but it was only slightly larger than the sail I had on the Minnow.
Unfortunately, it had too long a foot to fit on the Minnow's Boom. and it has no reefpoint ties installed. Here's a shot of them side by side: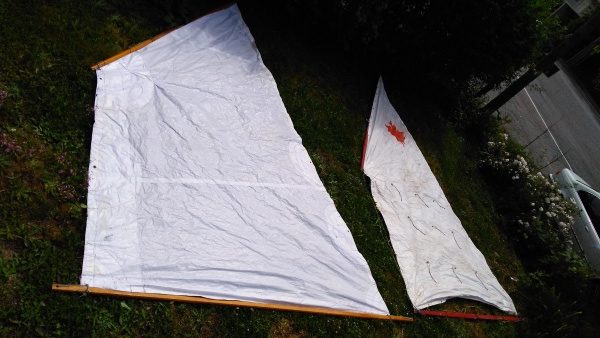 This is from a weird angle, the new sail isn't really that much larger; about 10 inches on the foot, about 2-3 inches on the throat, and between that for the yard and luff measurements. it's a lighter material, and therefore it stretches in the middle to develop belly while the reinforced edges help it keep it's shape. this sail was only used about a dozen times so it should be good and fresh.
First thing i did was transfer all the reefing lines and lazyjack / topping lift setup, along with adding this really nifty outhaul sliding car arrangement.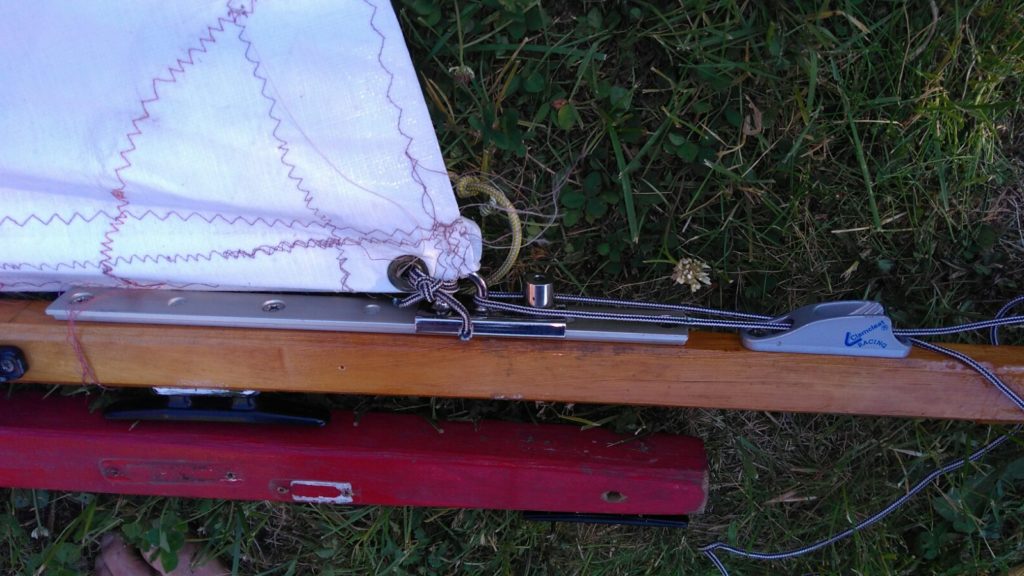 then, i cut the reinforcement patches for the reef ties.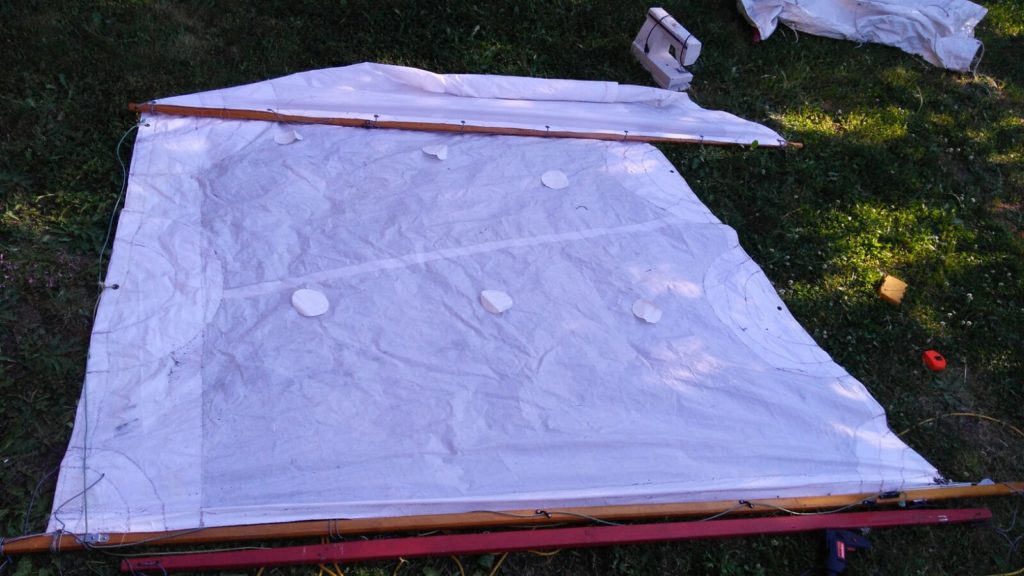 And then, we sewed them in. Ellen helped!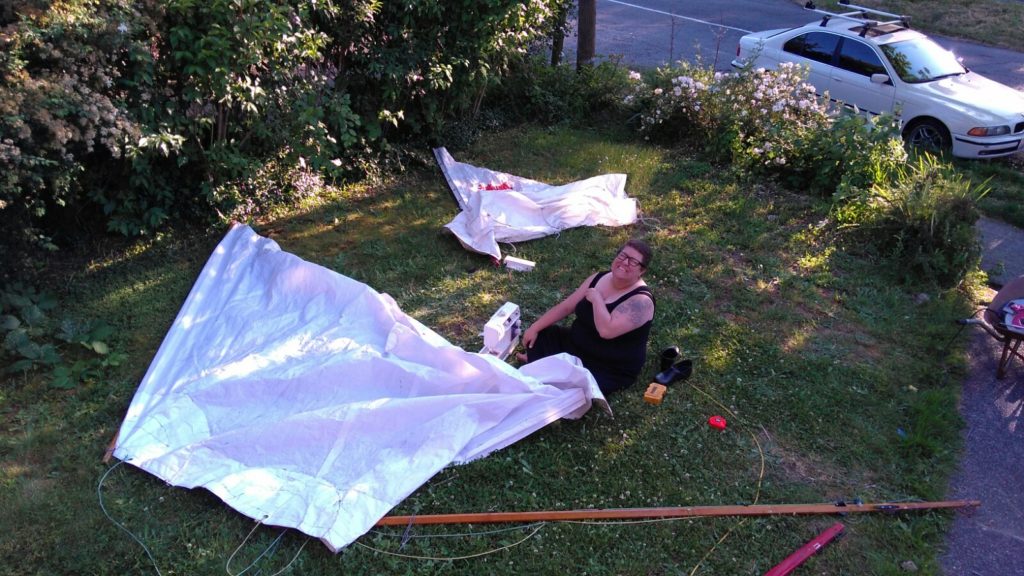 I took a turn!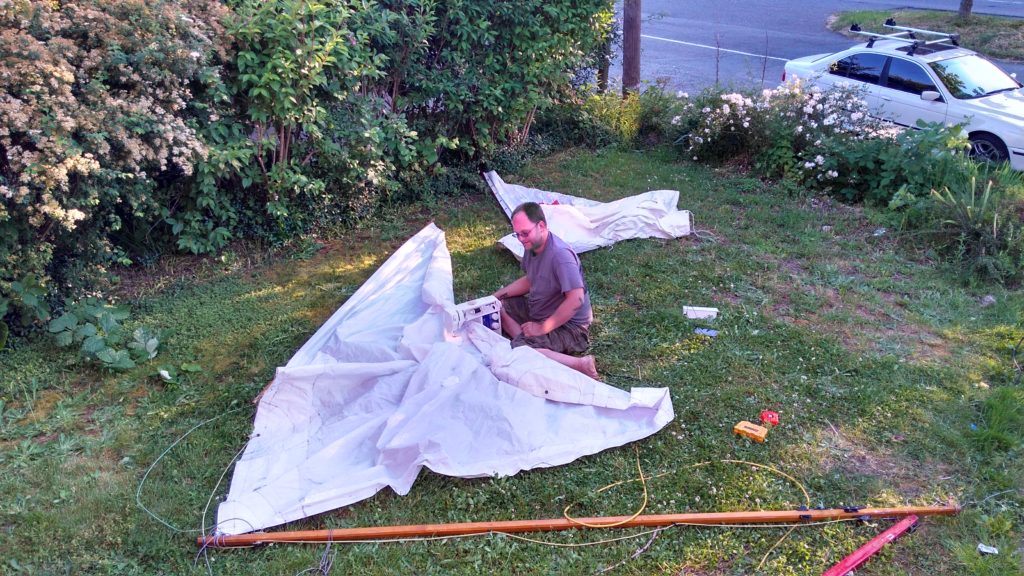 An Ellen in action shot: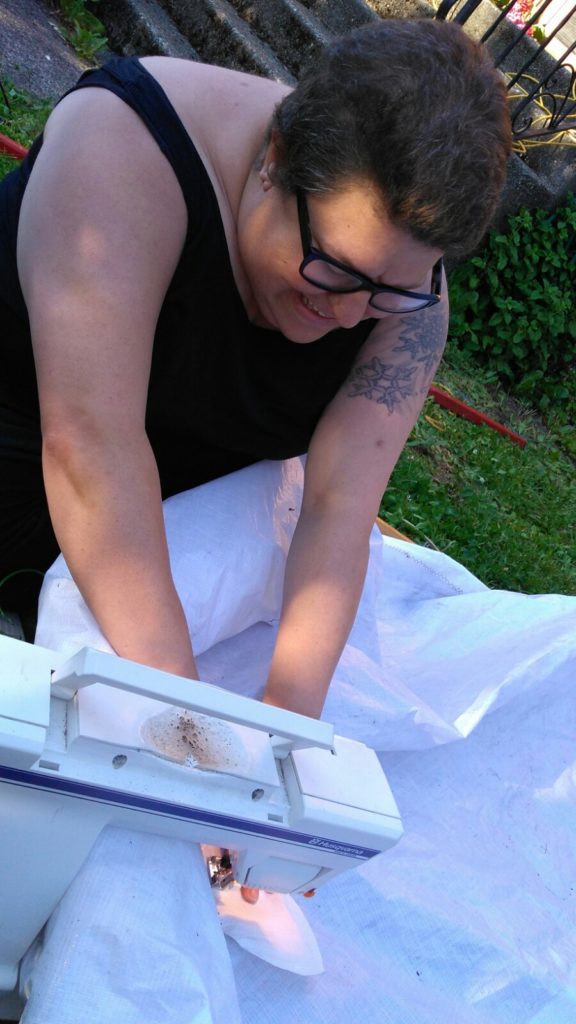 Side note: You can clearly see where I burned the top of her sewing machine with a halogen light a few years back, while making her a banana costume for Halloween. This girl puts up with a lot, and I love her for it.
Here's a close-up of the 'good enough' level of precision that typifies this sail.  Consider all the hanging threads 'extra telltales'.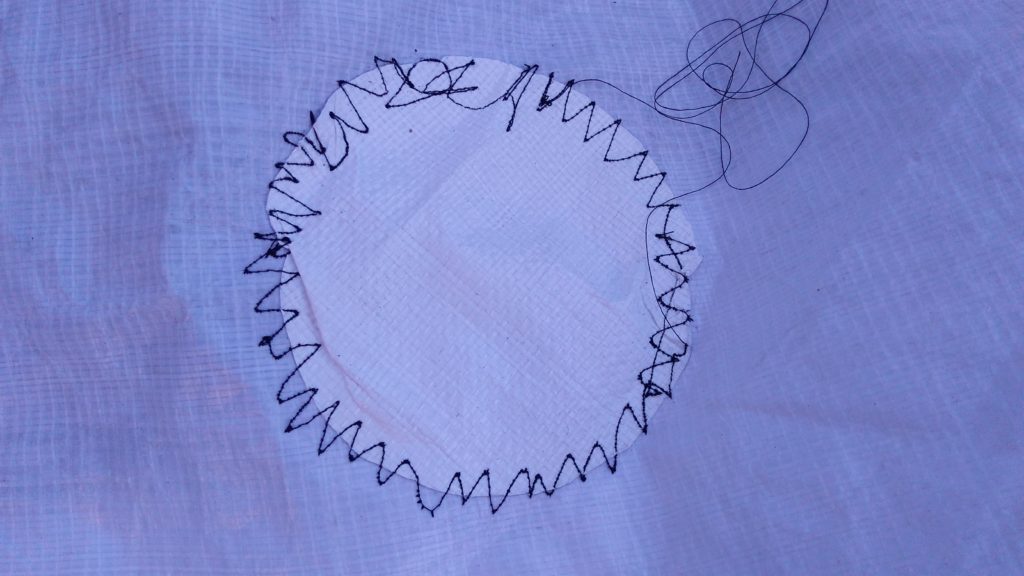 This morning, I ran out and got the grommet kit from the hardware store, installed the grommets, and made up the reef ties, using a torch sitting at our kitchen table. Each reef tie was cut to three feet, giving just under a foot and a half on each side of the sail.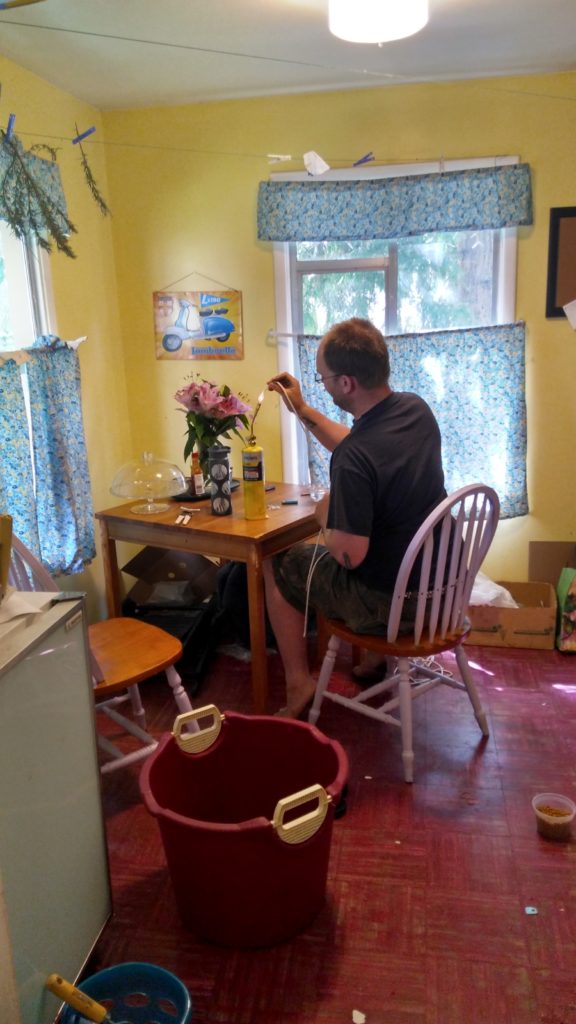 Did I mention that my wife puts up with alot? Yeah. she's great.
So here's the sail, with all the rigging and reefing work done. I even added a set of 'reef ties' on the yard at the very top of the sail to work as built-in sail ties that i can't loose.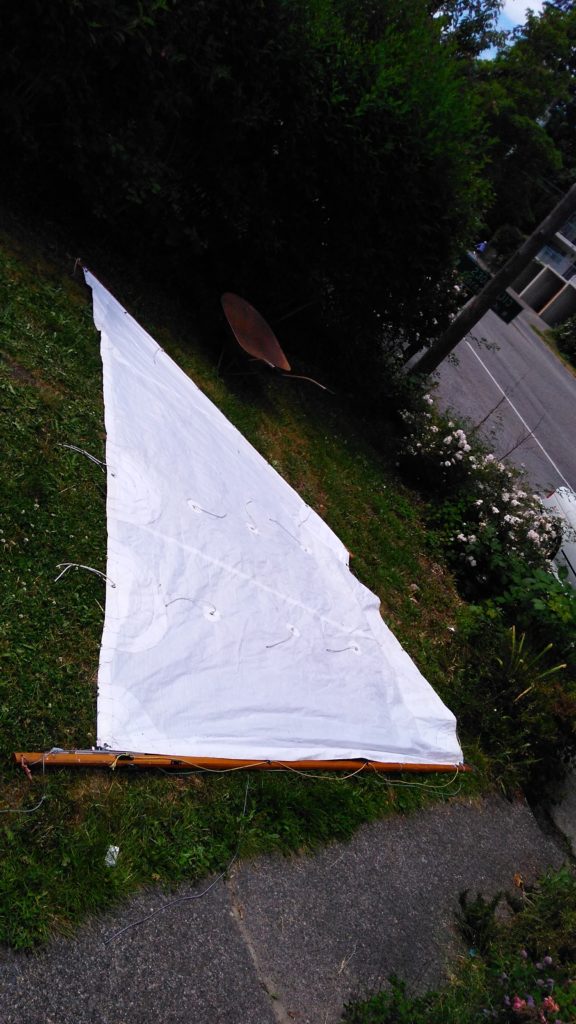 There is only one thing that worries me. the boom is a bit more….. bendy than the old one. it's to the spec of the plans for the boat, but the old boom was very overbuilt.
So here's my plan. I sail in a few hours towards Port Townsend. if it breaks, or scares me, I motor into Port Townsend, scare up a stick of lumber, and make a replacement boom. Hopefully i won't need to, but at least I have a backup plan.
All my provisions are packed, and there's a sock monkey staring at me, looking impatiently at where his watch would be if he had one. I guess we better get going!